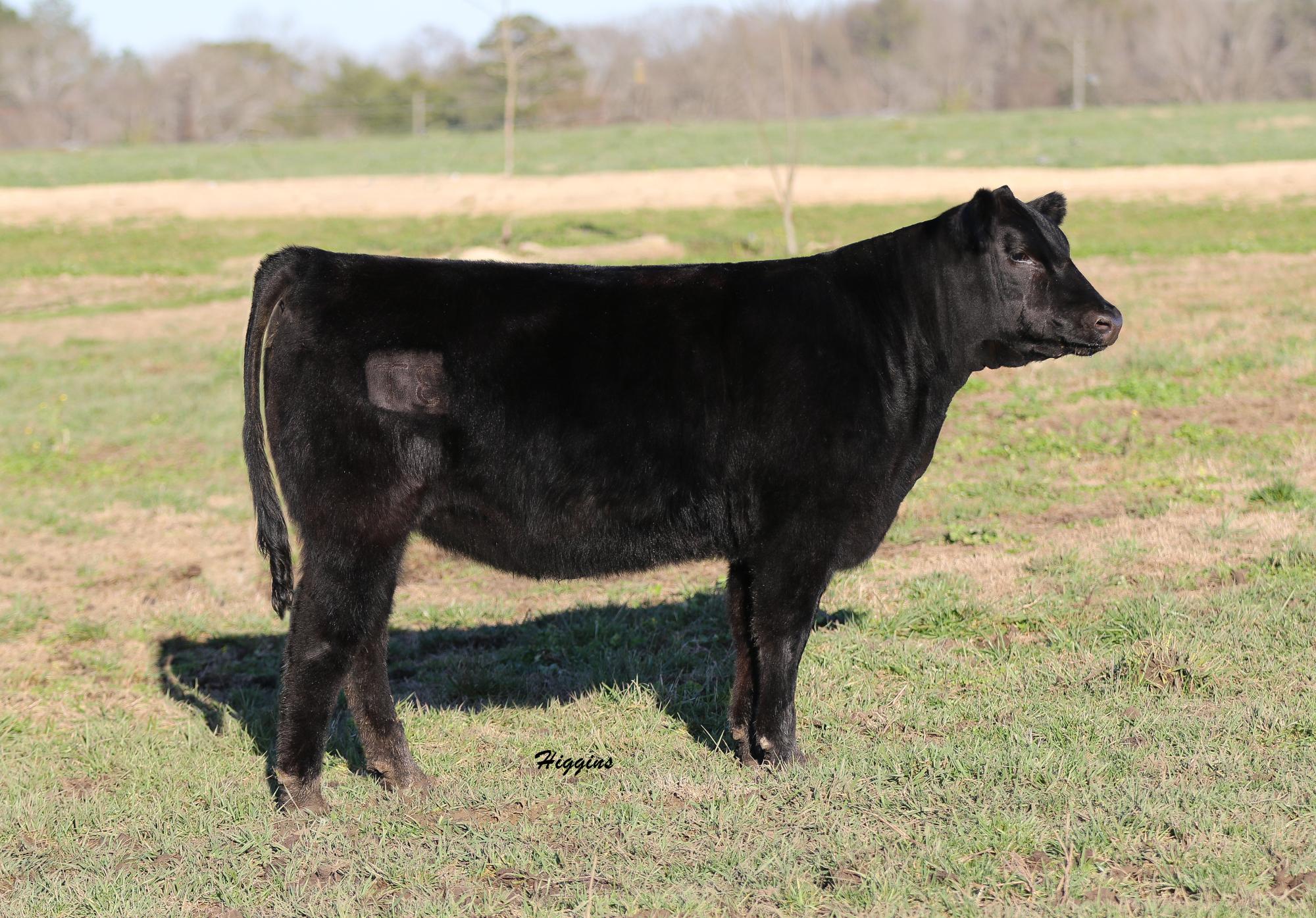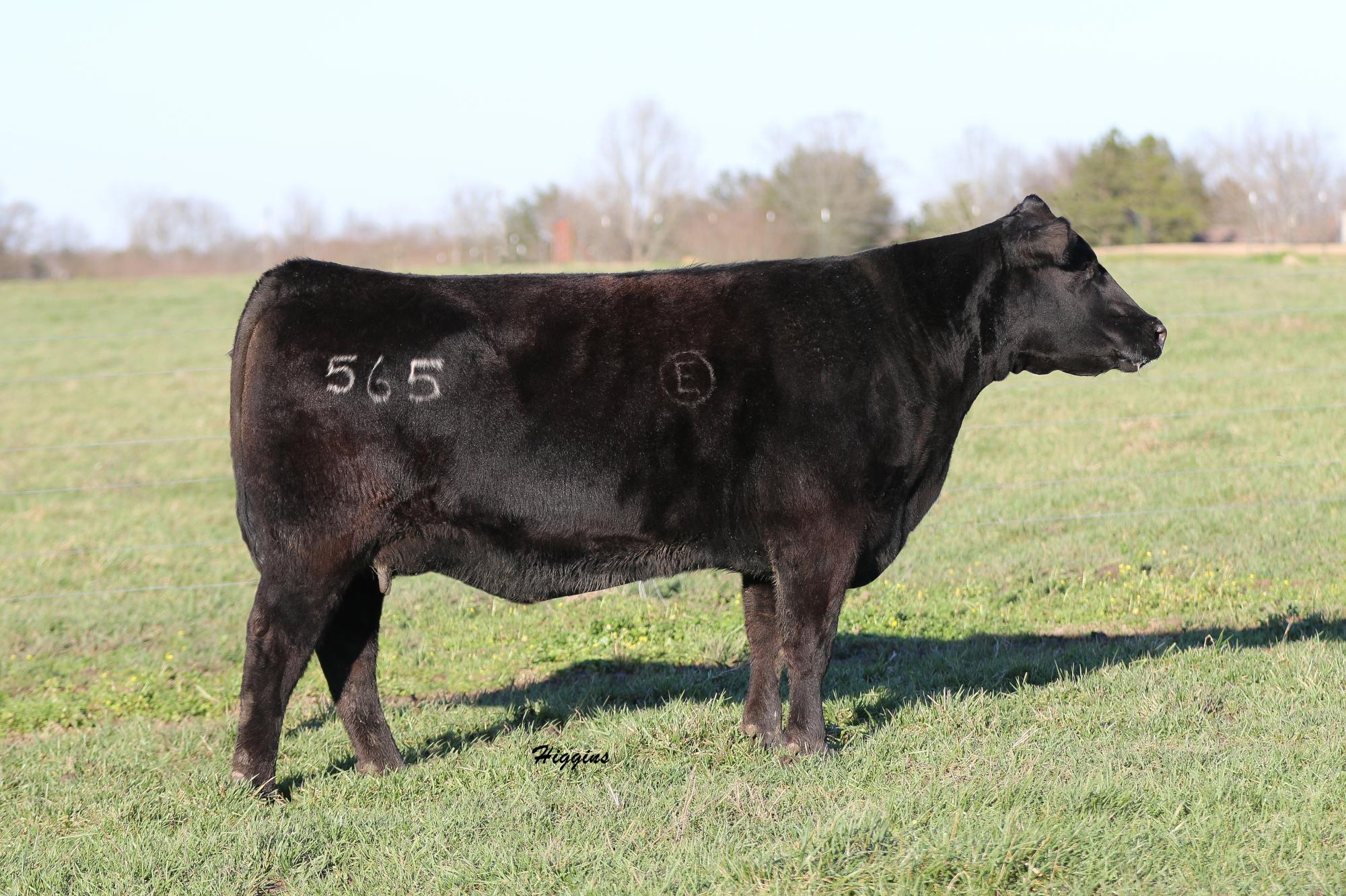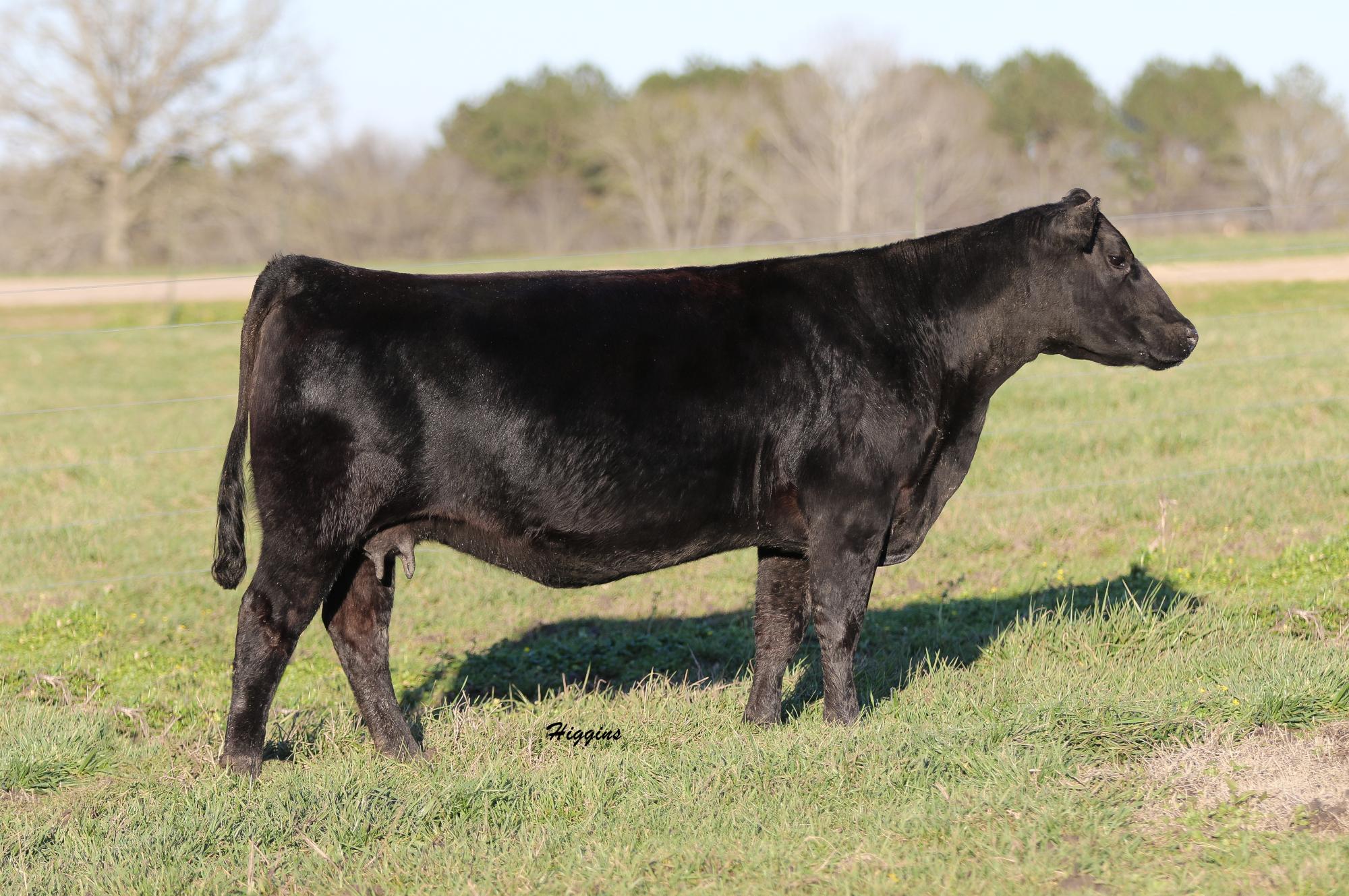 TEF MS MOTIVATOR 961T 619W is Herd I.D. 902 sired by CK MOTIVATOR 961T. Her dam is sired by one of Circle E's great herd sires CEF PRIESTER PCA. She sold one of the top selling prospect bulls in Dec. 2015 It's All Black & White Bull sale. Thank you to Randy Bellar from Wisner, Nebraska for buying this outstanding dam.
TEF MS FINTRY 990X 902Z is Herd I.D. 211. She is sired by CEF 376R 990X and her dam is Dam I.D. 902 pictured above. This is an outstanding female line in the TEF herd. Hugh Robiinson with K&P Farms from Mize, Misssippi bought this special dam. Thank you.
TEF MS BL MO 233 774-FD is Herd I.D. 423 and sold to Stan Comer with Classic Genetics Farm in Ardmore, Ok. This heifer will be around. This is another one that will be productive and can be used in many ways in different breeding programs.
TEF MS CC7 962 292-233W is Herd I .D. 405. This heifer caught everyone's eye but sold to Richard Guffey at Guffey Farm in Steele, Al. She stands out easily. She is sired by 93 CK-CC7 962Y. Her dam is sired by a son of the great WOCR BLACK MOUNTAIN. This heifer will make a great cow and has the look.
Herd I.D. 821. TEF MS DOUG 987S 398U has sold some of Triple E's top selling bull prospects. She sold with an outstanding bull calf on her side sired by a Double Star grandson. This cow earned her keep many times over at Triple E Farm. Another purchase by Classic Genetics Farm in Ardmore, Ok. Thank you.
Herd I.D. 410. TEF MS CC7 962 296-990X is out of bull Ck-CC7 962Y and her dam is another great female that is a TRACKER daughter sired by a great CK bull CK MOTIVATOR 999T. This heifer should raise a lot of replacement females and prospect bulls in the future. Thanks to Stan Comer for buying this top heifer.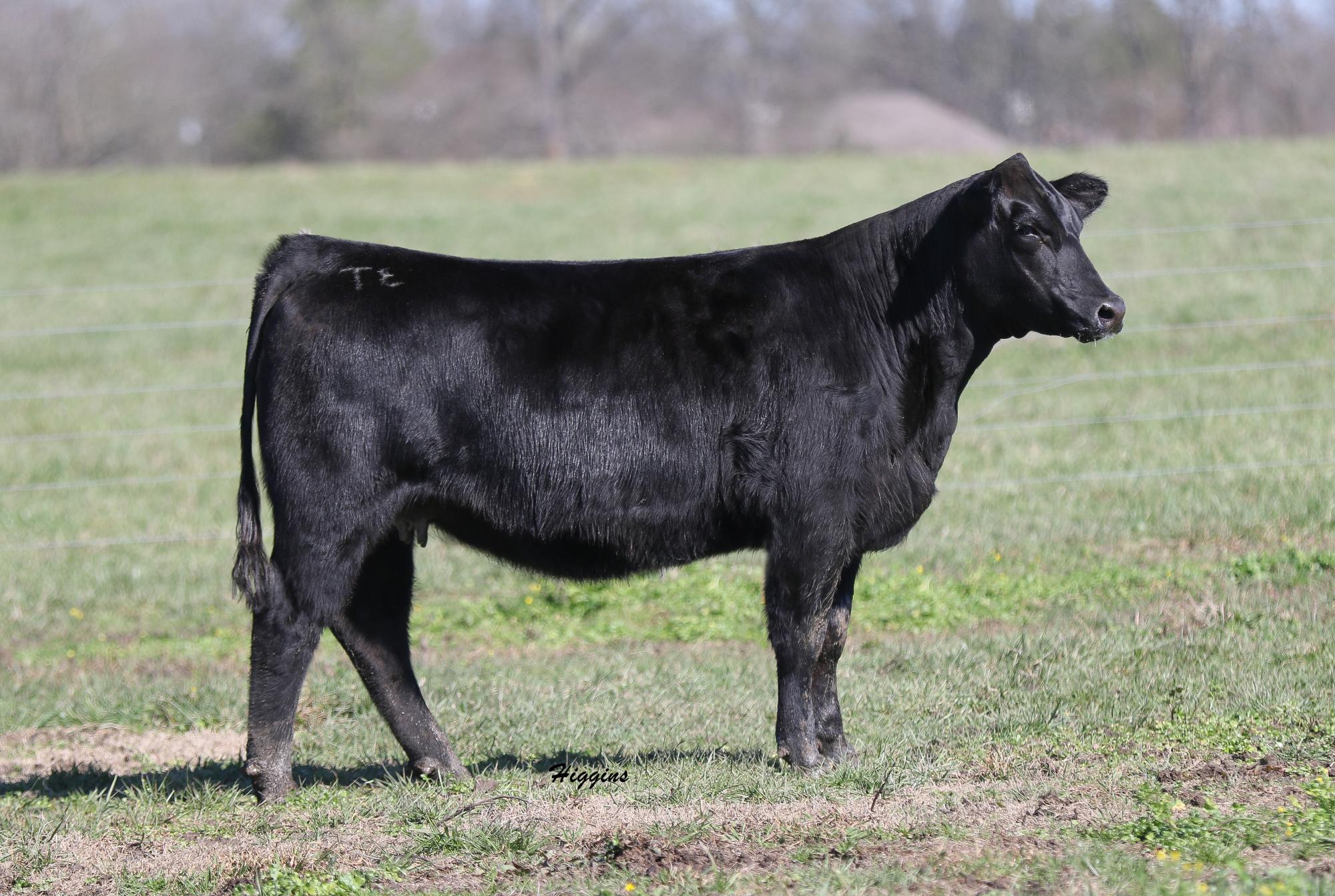 TEF MS DBL STAR 07/5513W 827A is Herd I.D. 300A sired by WOCR DOUBLE STAR 07/5513W. This was a Spring Calving 1st calf Heifer bred to 962Ysold in the 2016 Dispersale sale. Super deep heifer that is showing a great udder prior to calving.
Cow 013X has been one of our most prolific cows producing really good herd sires. Her sire is WOCR New Frontier 7G90T and her dam's sire is the great CEF Gentle Ben 44B 2CA. She has another bull prospect one on her side that will sell in the 2018 Black & White sale out of CK Motivator174A PCA. He will be a PCA as well.
Herd I.d. 011. TEF MS COALITION COWBOY 787X PCA is loaded with pedigree.. This cow always produces a high ranking wean weight. Thanks to Tim and Kate Sherwood for purchasing this special cow.
Herd I.D. 565. CEF MS COALITION 778R produced by my father Ned Ellis has been a great female in our herd sired by RDD COALITION FORCES 49M out of a GENTLE BEN going back to the great BC TOTAL POWER 2CA. Thanks to Gene and Clay Peques from Marion Jet, Al. She sold with a special heifer on her side.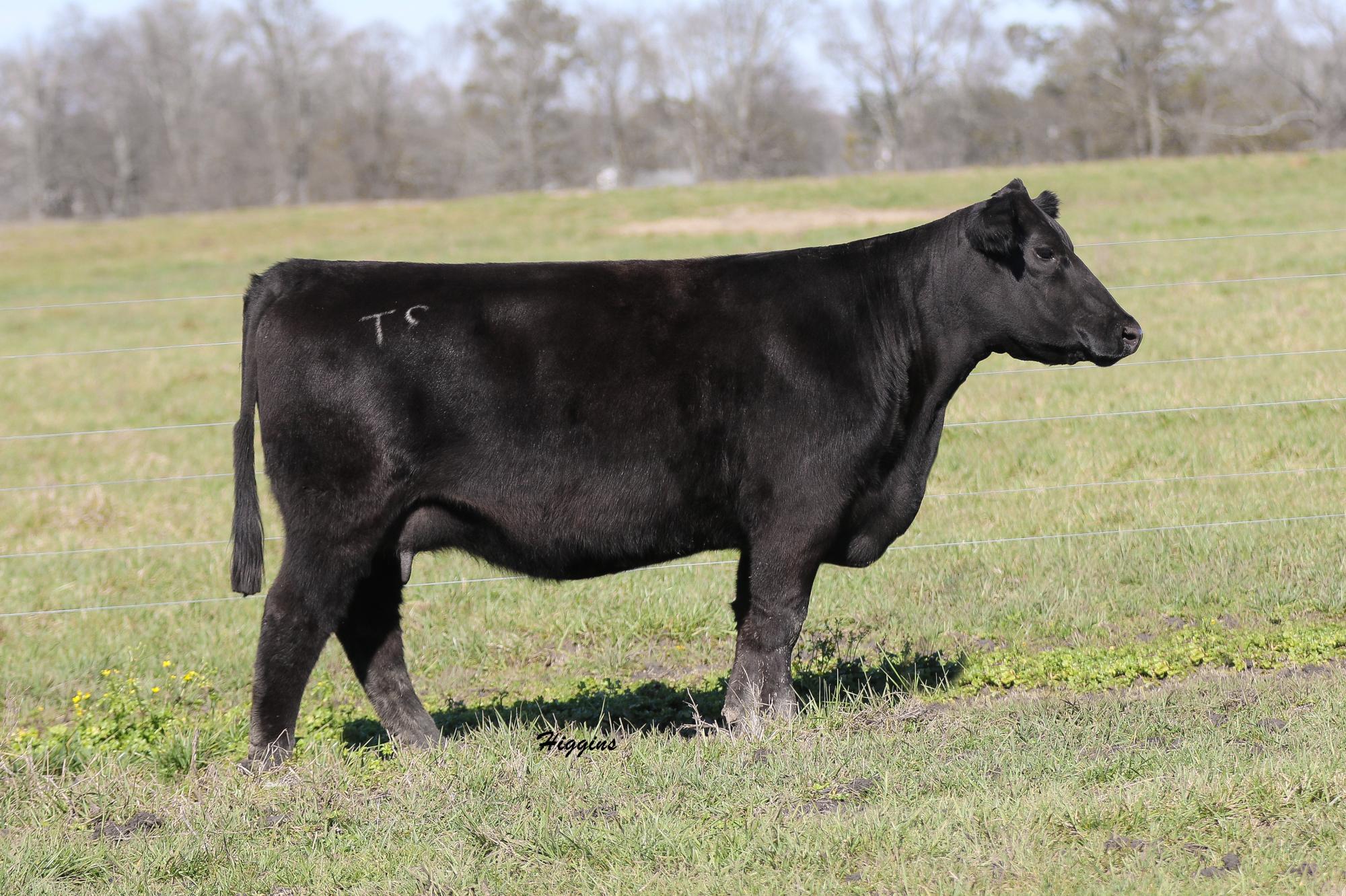 TEF MS PATHFINDER 673T 291Y is Herd I.D. 119 sired by WOCR BLACK MOUNTAIN 233W. She is out of CEF Poll Power 941E 2CA. This cow sold with a heifer sired by CK PATH VENTRUER 919X. Thanks to Randy Bellar and Bellar Chiangus for purchasing this great dam.
COWS & HEIFERS Sold in the 2016 Dispersal Sale
TEF MS FUTURE 897R 504W is Herd I.D. 905. This cow's dam is sired by RDD TRACKER with CEF FORTY NINER on the bottom. A cow that has proven herself every year and has made a big difference at Triple E Farm. Thanks to Mark Harmon with Harmon Cattle in Orlando, OK for purchasing this great cow.